SUMMER JUST GOT HOTTER, AND SAFER!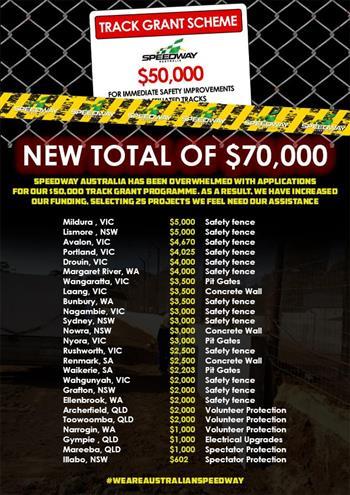 Speedway Australia has announced the successful applicants for its 2019 Track Safety Grant Programme, with 25 venues receiving assistance for their proposed upgrades. This has been possible thanks to the generous decision to increase the total payout from $50,000 to $70,000 at this weeks' Speedway Australia Board meeting.
Just over $44,000 has been allocated to safety fence upgrades (poles, wire ropes and netting), with $9,000 for concrete wall improvements and almost the same amount for pit gates. Electrical upgrades and a number of other initiatives to enhance volunteer and spectator safety comprise the remainder of the total with each individual track eligible to receive a maximum of $5,000.
We were blown away with the response from venues, receiving 35 applications totalling over $340,000 in proposed upgrades. This means a number of facilities were unsuccessful on this occasion, but we are working with tracks to find alternative sources of funding such as state and federal grant opportunities.
It is humbling to see the amount of time and effort that venue operators are willing to invest into their facilities to ensure the sport continues to grow and develop. Speedway Australia is proud of each and every track in its family, and we look forward to working with all of them to ensure speedway remains as safe and affordable as possible.
Posted: 20/09/2019