World Series Sprintcars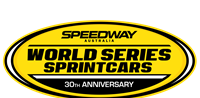 Formed in 1987, 12 leading teams travelled to Perth for the opening round of World Series Sprintcars (WSS). The line up included drivers Garry Rush, George Tatnell and Bob Kelly, Max Dumesny, Brett lacey, South Australian ace Phil March, former Mr Motocross Stephen Gall, 'Mad' Harry Delamont, Western Australian Des Nash and Victorians David Anderson, David Hetherington and Rob Richardson.
The WSS is Australia's only national Sprintcar series, blasting off in December each year, showcasing an almighty clash between the best drivers in Australia, and superstars from the USA.
Every year WSS features 'Speedweek', a five-night bevy of frantic racing action, starting on Boxing Day at Murray Bridge Speedway before blazing a trail through SA and Victoria, concluding on New Year's Day at Warrnambool.
A range of World Series Sprintcars merchandise is available to purchase on race days at WSS venues.
Fans can visit our Facebook, Twitter and Website.
World Series Sprintcars Honour List
1987/88 George Tatnell (NSW) 1988/89 George Tatnell (NSW)
1989/90 Max Dumesny (NSW) 1990/91 Max Dumesny (NSW)
1991/92 Brad Heywood (NSW) 1992/93 Max Dumesny (NSW)
1993/94 Garry Brazier (NSW) 1994/95 Brooke Tatnell (NSW)
1995/96 Brooke Tatnell (NSW) 1996/97 Skip Jackson (NSW)
1997/98 Skip Jackson (NSW) 1998/99 Skip Jackson (NSW)
1999/00 Brooke Tatnell (NSW) 2000/01 Brooke Tatnell (NSW)
2001/02 Max Dumesny (NSW) 2002/03 Daryn Pittman (USA)
2003/04 Max Dumesny (NSW) 2004/05 Max Dumesny (NSW)
2005/06 Brooke Tatnell (NSW) 2006/07 Max Dumesny (NSW)
2007/08 Brooke Tatnell (NSW) 2008/09 Brooke Tatnell (NSW)
2009/10 Brooke Tatnell (NSW) 2010/11 Robbie Farr (QLD)
2011/12 James McFadden (QLD) 2012/13 James McFadden (QLD)
2013/14 Steven Lines (SA) 2014/15 Brooke Tatnell (NSW)
2015/16 Jamie Veal (VIC) 2016/17 James McFadden (QLD)
2017/18 James McFadden (QLD) 2017/18 Steven Lines (SA)