SPEEDWAY AUSTRALIA TRACK GRANT SCHEME 2019/20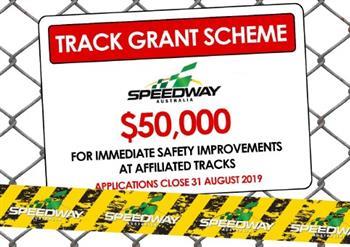 Speedway Australia operated a track grant scheme in conjunction with QBE until 2017, when it was decided to pause the programme to maximise the reduction in track permit fees for all venues.
We are now in the fortunate position where we are able recommence the track safety grant programme as well as maintaining those reduced track permit fees for the 2019/20 season.
Speedway Australia is setting aside $50,000 for immediate improvements at affiliated tracks, with a particular focus on the following items that can lead to a reduction in public liability claims:-
• Safety netting – smaller mesh to a greater height eliminates flying clay in spectator areas. These account for the largest proportion of claims over the last 20 years.
• Safety fences – aiming for 3 star specifications at every track i.e. 1 metre of concrete, 50mm poles 3 metres apart and four 13mm galvanised wire ropes.
• Pit gates – overall height to match the safety fence, structural solidity, appropriate latches etc
• Venue maintenance and design – eliminate slips, trips and falls and other potential hazards
So how do you apply?
Speedway Australia intends to be proactive and Liz Weaver (Track & Safety Development) will get in touch with venues we think could benefit from this scheme, particularly those with issues around flying clay. There are no guarantees as $50,000 is a drop in the bucket of what could be spent on venue upgrades, but it is a start and we fully intend to derive maximum benefit from it.
Other venues are also encouraged to apply if they have a desire to upgrade their facility in terms of the criteria above. You must include quotes for materials, as we will not fund the labour portion of any upgrade.
We can approve a maximum of $10,000 to any one venue, but it's more likely that grants will be in the region of $3000 - $5000.
Applications Close 31 August 2019
If your venue needs upgrades over and above what we can afford, we strongly suggest you get in touch with your relevant Sport Development Officer who can help you apply for external grants. If you're in QLD, NSW or VIC your contact is Adam Brook, and elsewhere it's Ross Kirby who can be of assistance.
The July 2019 edition of the rulebook is now available, and apart from the stylish new cover there are a number of minor tweaks: -
Section 18 (Pit Health and Safety) integrated into Section 3 (Technical & Safety). These are important rules that were often overlooked as they were buried at the back of the book.
Late Models now have their own Appendix for their specific alterations.
Karting Start Procedures have been clarified as the existing clause was ambiguous, Rule 3.7.6(b).
All these changes are in bright red text so they can be easily identified. In addition, the supplementary information at the rear of the publication has been updated for the 2019/20 season.
Download the rulebook now by clicking here.
Posted: 8/08/2019