Revolution Racegear Returns for Quicktime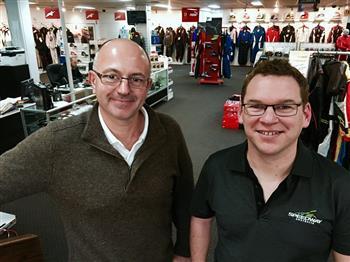 Longtime partner of World Series Sprintcars, Revolution Racegear returns to WSS in season 2016-2017 to celebrate the 30th anniversary of Australia's Premier National Sprintcar Series.
Revolution Racegear Managing Director Tullio Salta (pictured left) said, "We are proud to continue our association with Speedway Australia and the World Series Sprintcar Championship. Our partnership dates back to 2002 and it is still our No. 1 priority to ensure young drivers are well educated and informed on safety."
Revolution Racegear was founded in 1993 by George Santana, a motorsport hero from South Africa who's mission it was to 'revolutionise' the way Australian motorsport competitors were forced to buy their gear through catalogues and pay exorbitant prices.
George went about setting up a national network of motorsport shops and secured agencies for the best international motorsport brands that are today world leaders. With 18 stores throughout Australia and one in New Zealand Revolution Racegear continues to be the leader in motorsport safety equipment and performance accessories.
Tullio confirmed "Revolution Racegear searches the world to bring the best safety equipment into its stores and its own brand 'RPM' continues to expand with the latest designs and innovation…'
2016 Revolution Racegear WSS Quicktime Champion Luke Dillon of Cherry Gardens in South Australia said the Quicktime awards provided him the opportunity and comfort in knowing the RPM brand he wears is of optimum industry standards. Luke welcomed Revolutions return to WSS.
Also welcoming Tullio and his team to WSS30 is General Manager of Speedway Australia Tim Savell, "Speedway Australia and Revolution work closely to ensure the best available products in regards to safety are sourced for our license holders. Tullio is a member of the Speedway Australia Safety Advisory committee and we appreciate his commitment to Speedway."
Photo: Managing Director of Revolution Racegear Tullio Salta pictured left and Speedway Australia General Manger Tim Savell in the Melbourne Headquarters.
Posted: 17/10/2016