QUEENSLANDER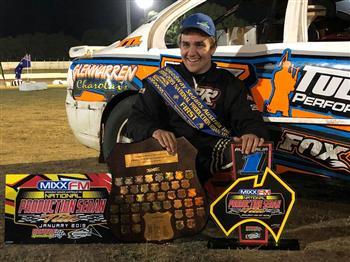 Joel Berkley has won the National Production Sedan Title at the Western Speedway in Hamilton, in what was a thrilling race, which had multiple lead changes and also a spectacular rollover.
Berkley becomes the second youngest competitor to win the National Production Sedan Title, behind Jacob Mills, and thoroughly deserved his win.

I can not believe it, I guess it will sink in soon I guess, Berkley said after the race.

Dehne Sparrow, the Club President of the Western Speedway, did a magnificent job on and off the track, and thanked all of the Club Volunteers and dedicated his place on the podium to them.

Third placed Justin Hawkins was in the thick of the action all weekend, and was a deserving placegetter in a frantic finish, while Beau Riley from Western Australia, capped off his Victorian Title victory a fortnight before with a strong fourth placing, and was consistently fast all weekend, as was fifth placed Richard Cook, who like all the other placegetters, thoroughly deserved his position with a classy drive in the forty lap main event.
Posted: 29/01/2019