NEW RULEBOOK AVAILABLE NOW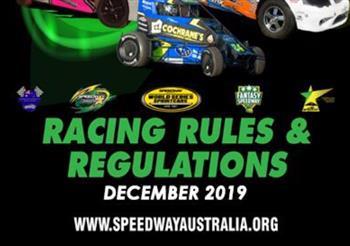 The December 2019 edition of the rulebook is now available.
All these changes are in purple text so they can be easily identified.
A brief summary of the changes are as follows: -
Licence Fees
The licence fee structure has changed to reflect the reduction in Officials licences to $25

Speedway Sedans Australia Field Sizes
Maximum field sizes for SSA events have increased, from 12 cars to 16

Speedway Sedans Australia Protest Rules
SSA has its own separate protest rules in place relating to chassis an engine, which have been clarified in Appendix 3A in this latest edition

Speedway Sedans Australia Social Media Policy
An updated version of the Social Media policy applicable to all Speedway Sedans Australia Competition

One-Way Communication
An amendment to the penalty matrix for one-way communication, with drivers now receiving a rear of field penalty for non-compliance, as opposed to the previous black flag penalty.
Download the rulebook now by clicking here.
Posted: 6/12/2019