McHUGH MIRRORS DAD'S TITLE AT TOOWOOMBA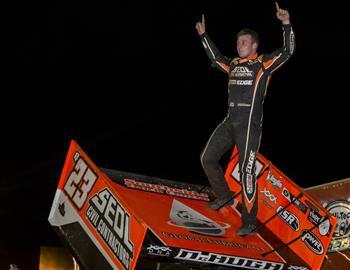 Gold Coast speedway hotshot Lockie McHugh has sealed his maiden Queensland Sprintcar Title in Toowoomba on Sunday night after an epic drive starting tenth and claiming the "Hardcharger" honours in the process.
McHugh's win came at the same venue that his father claimed his maiden Queensland Super Sedan Title in 2004, securing Toowoomba as one of the family's happy hunting grounds.
The quietly spoken McHugh started his campaign by qualifying 9th before moving forward in both heats to secure 10th spot on the grid for the 35 lap A Main. For the first fifteen laps, the twenty-year-old picked off an impressive list of racing veterans while dovetailing with Danny Reidy to reach 4th and 5th respectively, engaging in an epic battle with defending champion Mitchell Gee and Sydneysiders Mick Saller and Marcus Dumesny.
The five-way battle caught race leader Andrew Scheuerle with just ten laps remaining, triggering a phenomenal skirmish for the podium positions before the trio of young racers in McHugh, Gee and Dumesny created their own final-five lap battle, settling the podium positions in the process while McHugh posted his quickest lap of the race on the second-last rotation to seal his maiden Queensland Sprintcar Title.
"We love this place," McHugh said, "and to have a night like this in the home town of our major sponsor Sedl Contracting is amazing. Mick Sedl used to prep Toowoomba for quite a few years and he sourced the new material for this track before Easter so it's a massive personal connection for him and a great reward when you look at how much he puts into the sport and into our team!"
Ironically, McHugh's win in Toowoomba just two weeks earlier was from the same starting position of 10th, however the Griffith University student was adamant that the Queensland Title was a markedly tougher battle.
"At Easter it was a longer race of 40 laps but we had got to the lead by lap 17 with a few front runners going out earlier, but last Sunday it felt like every position was earned, but it was a lot of fun and racing against these guys was really clean too which was great. I've had a heap of fans tell me it's one of the best races they've ever seen so it's great to have out on a great show for the people who pay their hard-earned money to come and watch us race."
Hi-Tec Oils Speedway commentator Ryan Harris echoed McHugh's sentiments, labelling his drive as "simply awesome."
"Mitchell Gee had worked his way to the front but had a hard-charging Locky chase him down from the fifth row, and pulled off a great slide on Mitch to secure the title. He was awesome at Easter and awesome again tonight. The future of Sprintcar racing is in very talented hands with Locky right at the forefront of an emerging generation of brilliant drivers."
McHugh has just one more event for the season, as he heads to Brisbane's Archerfield Speedway as the freshly crowned Queensland Champion on May 25.
Pic: Declan Brownsey - 44 Photography
Posted: 10/05/2019