LINES SURVIVES LAST TURN LUNGE TO WIN WORLD SERIES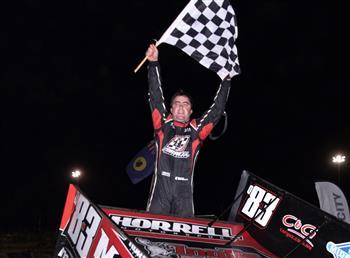 Steven Lines has claimed the 2018-19 QSS World Series Sprintcars Championship in emphatic fashion despite a last corner lunge from Kerry Madsen at the Perth Motorplex.
Lines entered the final round just seven points ahead of Madsen who claimed his tenth Revolution Racegear Quicktime just sixteen hundredths of a second ahead of Lines, setting the scene for a phenomenal battle that could only be decided in the final race.
Lines claimed a pair of third placings in his heats, while Madsen ran fifth in his first heat, but was the only racer to advance from eighth to first in any heat of the night, bringing the series points margin back to just six heading into the Shootout.
Madsen was highest on round points going into the shootout, and was defending his pole position for the first two laps of the gold shootout until McFadden and Lines upstaged the #W2 to takeover the front row, leaving Madsen to start alongside Brad Maiolo on row two.
McFadden chose the inside line for the feature race on a race track where most teams came equipped with a harder left-rear, however Lines locked into the front spot after the first rotation only marginally staying ahead of McFadden and Madsen as all three battled for the lead in the opening laps.
Lines created some significant space while Madsen and McFadden traded positions corner for corner until Tom Payet brought on the first caution on lap 12 after stopping in the front straight. Then on the restart, Brooke Tatnell seemingly appeared from nowhere to displace Madsen for third and add another contender to the already busy podium battle.
McFadden came within striking distance of Lines on numerous occasions until lap 19 as the leader passed two backmarkers with a monumental slide job into turn four, forcing them to brake and consequently leave McFadden with nowhere to go. The four-time WSS champion clouted the turn four wall hard, sending the #W17 skyward and into a bone jarring landing to end his campaign.
On the restart, Madsen regained the second spot from Tatnell, while Rusty Hickman had advanced to fourth before a close call with Kaiden Manders led Hickman into a spin but able to avoid on-coming traffic.
Meanwhile Jason Kendrick was on his way to claiming the American Racer Hard Charger for a second night in succession, progressing from 22nd on the grid to 4th by lap 22, joining Tatnell to battle for the last spot on the podium, finally prevailing on lap 27 to secure third.
Madsen was trying everything to make gains on Lines, coming close on multiple occasions until he made one last concerted lunge on the final turn to just fall short by .728 of a second with a further 1.3 seconds back to Kendrick.
Lines drove into victory lane to one of the loudest cheers in Motorplex history, as the 2013-14 champion not only claimed his second series win, but the first for Horrell Motorsport and crew chief Dave Sharman.
"I'm glad that's over," Lines said with obvious relief. "Coming in with just seven points at the start of the night, we just had to keep it together and not get too worried, but now I just couldn't be happier. To win this for Dave and Lorraine Horrell and for Dave Sharman is brilliant, and I'm just so pleased to be able to do it for them."
The Horrell Motorsport team will celebrate their series win at the championship dinner tonight, where a host of peer voted awards including Sportsman and Crew Chief of the Year will also be presented.
PIC: Richard Hathaway Photography
Posted: 24/02/2019