GREEN LIGHT FOR GERALDTON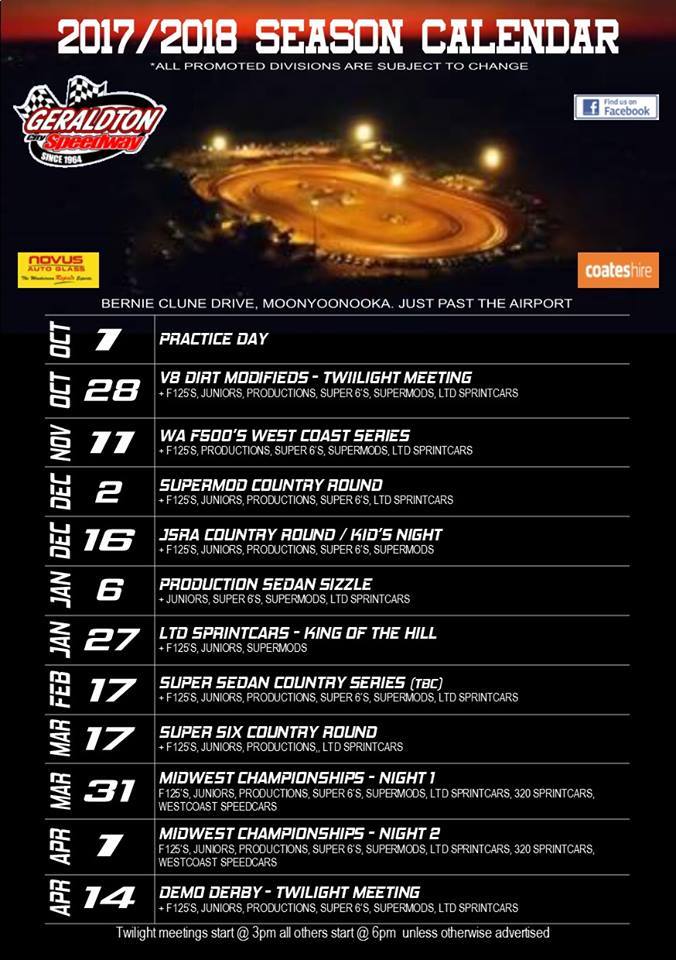 Speedway Australia is proud to welcome Geraldton City Speedway into the organisation. Situated roughly four and half hours north of Perth in Western Australia, Geraldton City Speedway has an exciting season ahead of them.
Firing back into life next Saturday 28th October for a twilight event, Geraldton will host V8 Dirt Modifieds, as well as F125s, Juniors and more in support. Their season is set to include eleven nights of racing entertainment which will finish with a Demo Derby Twilight event on April 14.
"Speedway Australia has a number of initiatives and systems in place that add value to our venue and we are excited to be working with them," commented Geraldton President Peter Smith.
Speedway Australia and the WA Speedway Commission recently held a competitors forum in the state, with fantastic feedback received from attendees. This new partnership with Geraldton City Speedway further strengthens Speedway Australia's work in the area.
The Speedway Australia team wishes Geraldton all the best for their upcoming season and fans are encouraged to visit their Facebook group for more information on the venue.
Posted: 23/10/2017