GOLDEN ANNIVERSARY LISMORE SPEEDWAY MAGAZINE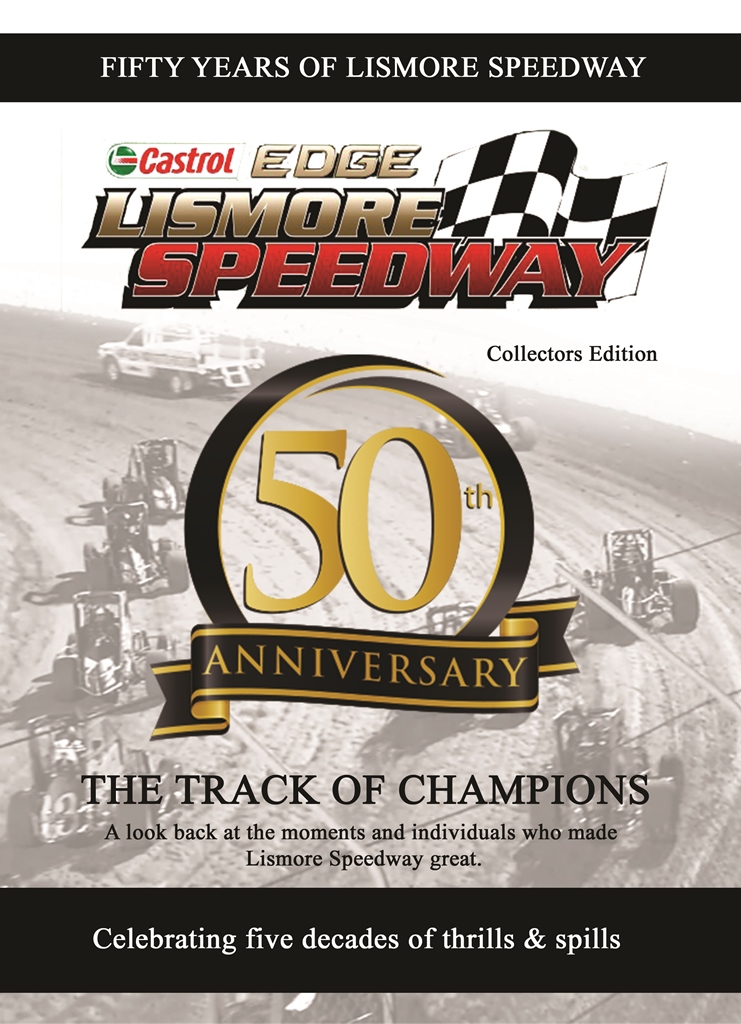 A beautifully produced 130-page colour magazine capturing the 50 year history of Castrol Edge Lismore Speedway has been released.
While the track may be classified as a provincial venue in the network of speedways across Australia, Castrol Edge Lismore Speedway today stands tall for its mighty achievements and is rightly known as the Track of Champions. The circuit has raised 18 local Australian titleholders over the 50 years in an accomplishment unmatched by any other Australian speedway venue.
The Lismore track this year celebrates its Golden Anniversary season and the magazine is a genuine speedway collector's item to celebrate the milestone. The publication, under the control of veteran journalist Dennis Newlyn as Managing Editor, is a documented history in words and photos from the day pioneering promoters Dutton Stibbard and Neil Mansell turned on the lights for the first time on November 22, 1969.
There are so many great articles from several contributors including former Lismore promoter Warren King and current V8 Dirt Modified competitor Andrew Pezzutti.
Read what motivated the decision by the Lismore Automobile Club (LAC) to build its own club rooms at the track and why American Sedan Team driver Jack Hewitt became the villain of the traditional Lismore Test clashes against the Aussies.
All the race car categories are covered in feature stories – even bikes – while there's a very interesting read on the history and development of V8 Dirt Modifieds and why Lismore Speedway played a dominant role. There's also the great Super Sedan and international Speedcar moments documented in detail.
The early years of the national Winfield Sprintcar Series are covered with great colour photos when Lismore Speedway was a part of the championship trail.
So many people – including long time announcers Howard Atkinson, George Jensen and current day caller Neil Marks – have wonderful stories to tell about their memories and it's all there to read in this very special souvenir magazine.
A matching Golden Jubilee cap ($20) also is available with magazine ($19.95) for a discounted price of $35.00
For more information:
Phone the Lismore Speedway office 66212733, promoter David Lander (0408222908) or Ann Clarke (0400450205) during business hours with your credit card details, or send your order and contact information via email: office@lismorespeedway.com.au
Even snail mail your magazine/cap (or both) order with accompanying cheque or money postal note to: Lismore Speedway, PO Box 675, Lismore, NSW., 2480.
Posted: 7/12/2018