Adelaide Motorsport Park Signs for WSS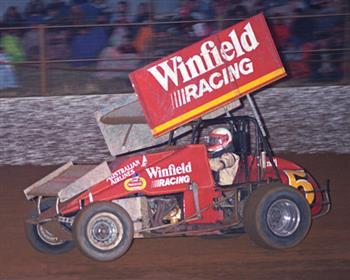 The former Super Sedan pilot who takes over the reins at Adelaide on July 1, is busy developing a schedule of events for season 2016-17.
Adelaide Motorsport Park will promote 2 rounds of the record 19 round - 21 Night tournament. Boxing Day night December 26 will be the opening round of the popular and drama filled WSS Speedweek promotion.
General Manager of Speedway Australia, Tim Savell welcomed Bills new promotion to the World Series Schedule, a competition focused on promoting its rich 30 year history, the present and the future.
Miller also announced his organisation will continue to promote the George Tatnell Cup now as part of World Series Sprintcars. "George played a huge role in the development of speedway racing in Australia during the 1970's & 80's," Bill reflected. "As a young fella in the stands at Rowley Park, I remember George exciting the fans with his showmanship. His claim that 50% love me, 50 % hate me, so I have a 100% following is something that still resonates today. Can you imagine George being let loose on Facebook?"
Miller said it will be an honour to promote the George Tatnell Cup Friday February 3, 2016.
This exciting addition to the 30th Anniversary WSS schedule is an appropriate way to recognise the legacy of Tatnell, the inaugural winner of World Series Sprintcars back in 1987. The full calendar now looks like this:-
30th Anniversary World Series Sprintcars Calendar.
November 12, Murray Bridge Speedway – SA.
November 19, Valvoline Raceway Sydney – NSW.
November 26, Archerfield Speedway – QLD.
December 3, Toowoomba Speedbowl. – QLD.
2017 WSS Speedweek
December 26, Adelaide Motorsport Park. – SA.
December 27, Murray Bridge Speedway. – SA.
December 28, Borderline Speedway - Mount Gambier. SA.
December 30, Avalon Raceway – Geelong VIC.
January 1, Premier Speedway, Warrnambool. VIC.
Sunshine Swing
January 3, Toowoomba Speedbowl. QLD.
January 4, Archerfield Speedway QLD.
January 6/7, Archerfield Speedway Australian Open QLD.
George Tatnell Cup
February 3, Adelaide Motorsport Park. – SA.
WSS Ultimate
February 4, Murrays Machining and Sheds Murray Bridge Speedway. SA.
Western Swing
February 11, Perth Motorplex. WA.
February 17, Attwell Park Speedway – Albany WA.
February 18, Bunbury Speedway – Bunbury WA.
WSS Grand Final
February 24/25, Perth Motorplex (Western Swing Round) WA.
February 26, WSS30 Presentation Dinner
Interested Teams, for further information contact:
Speedway Australia
Sports Development Officer
Shawn Mortimer 0429 333 528
Posted: 22/09/2016