2019 RISING STARS ANNOUNCED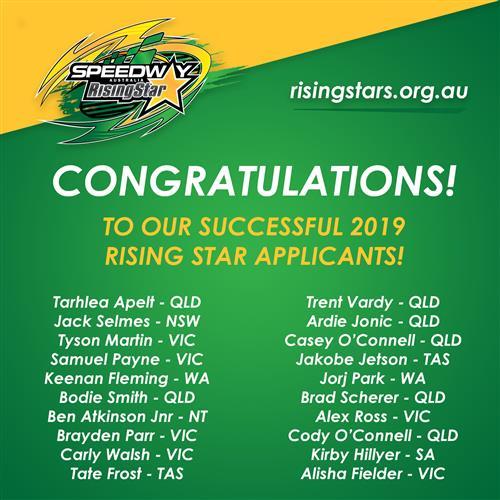 Speedway Australia's Rising Star youth driver platform has been educating our future stars since 2009. Every year, successful candidates make the trip to Canberra in April to enjoy four days of high performance training.
In 2018, the intake for this fantastic initiative was increased to 20 participants and that figure has been continued for this year's program. Once again Speedway Australia received an incredible response from many drivers aged 16-23 and the final decision was tough for all involved. Although only 20 people can participate, the good news is every driver who applied is still eligible next year, with some still eligible for years to come. We highly encourage anyone who didn't make it this year to once again apply for 2020 as many of our past graduates have been successful in follow up attempts.
We are excited to now share with you our successful 2019 Rising Stars! They include drivers from seven states and 10 different classes. Congratulations to the following and we look forward to seeing you all in April.
Alex Ross, VIC - Wingless Sprints
Alisha Fielder, VIC - Wingless Sprints
Ardie Jonic, QLD - SSA Junior Sedans
Ben Atkinson Jnr, NT - Sprintcars
Bodie Smith, QLD - Speedcars
Brad Scherer, QLD - SSA Production Sedans
Brayden Parr, VIC - Sprintcars
Carly Walsh, VIC - Sprintcars
Casey O'Connell, QLD - SSA Junior Sedans
Cody O'Connell, QLD - Wingless Sprints
Jack Selmes, NSW - Lightning Sprints
Jakobe Jetson, TAS - SSA Modified Sedans
Jorj Park, WA - SSA Street Stocks
Keenan Fleming, WA - Speedcars
Kirby Hillyer, SA - Wingless Sprints
Samual Payne, VIC - SKAA Karts
Tarlea Apelt, QLD - Formula 500's
Tate Frost, TAS - Sprintcars
Trent Vardy, QLD - Sprintcars
Tyson Martin, VIC - SKAA Karts
Posted: 29/01/2019