Electronic One Day Licences Rolled Out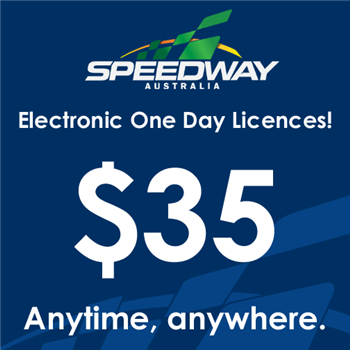 Until now, a one-day licence cost $35 if purchased a week prior to the event, or $50 if ordered less than five working days prior. Speedway Australia one-day licences are now a flat rate of $35 incl GST at any time, and you can even purchase them at the track on the day of the race meeting.
The improvements come from moving from a paper-based one-day licence form through to a fully electronic system that automatically notifies the competitor, track and national division (if applicable) once the licence is purchased.

Highlights of the system:-
• The $15 surcharge for purchases less than five working days prior to the event no longer applies
• No posting out of one day licences, they are delivered instantly to your inbox
• No need for tracks to order pre-approved one-day licences, saving valuable working capital
• The host track and relevant national division are automatically notified when the licence is purchased
• Only two one-day licences are permitted per season for competition, unlimited for practices.
• Tracks can impose their own conditions if they need to, such as a close off time for purchasing a licence
• The one-day licence Includes complimentary personal accident insurance, with the same cover as a full licence
• SSA requirements still apply regarding the need to have an infringement card etc. They receive a copy of any one-day licences purchased for their divisions, and can assist with this process which can take up to 10 working days.

To purchase a licence, click here.


We're serious about making it easier for casual competitors to get into speedway, while also improving the quality of services to our race tracks. This initiative achieves both of those outcomes while also being the best value and most convenient option on the market. As a result, we look forward to seeing even more competitors hitting the tracks in 2016/17.
Posted: 22/09/2016