CBHS Corporate Health Partnership Announced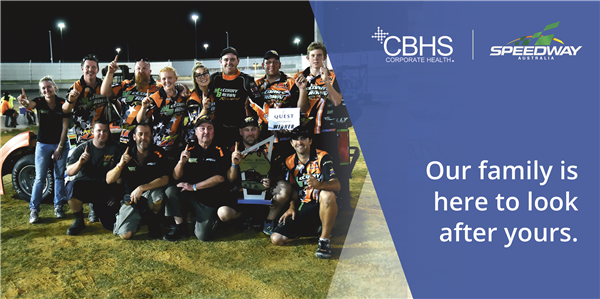 Speedway Australia and CBHS Corporate Health are excited to announce a new partnership to offer Speedway licence holders, their families and supporters a leading private health insurance solution.
CBHS Corporate Health works to improve the lives of its members by providing the best possible health and wellness solutions. It provides the level of service you expect for yourself and those closest to you. In 2017 it was recognised by CHOICE, reflecting the quality of its products.
Dario Molina, CEO and Executive Director of CBHS Corporate Health, said "I am excited about this new partnership with Speedway Australia. As organisations with a shared interest of looking after our stakeholders first, it represents a great synergy. I believe that we offer the best service and cover, and creating this partnership allows us to share this offering with its licence holders."
Speedway Australia Chairman Guy Thompson was similarly enthused. "This is a fantastic partnership for speedway, and it's great that we can offer a fantastic deal to the sport from a leading health insurer. We also need to particularly thank Board member Damien McKern and the Speedway Australia staff for bringing this partnership to fruition."
As part of this new partnership, CBHS Corporate Health has a special introductory offer. Visit their website to find out more www.cbhscorporatehealth.com.au/speedway
Posted: 30/11/2017